CESPHN SERVICE GUIDE
---
Central and Eastern Sydney PHN has produced a comprehensive Services Guide that outlines the services that we provide and those we fund. This guide was developed so that health professionals are aware of the services that are available in the central and eastern Sydney area and how the PHN can help them.
*NB It is important to clear your cache to make sure you are seeing the latest version. To clear your browser cache, here is a short explainer video for Safari and another for Chrome.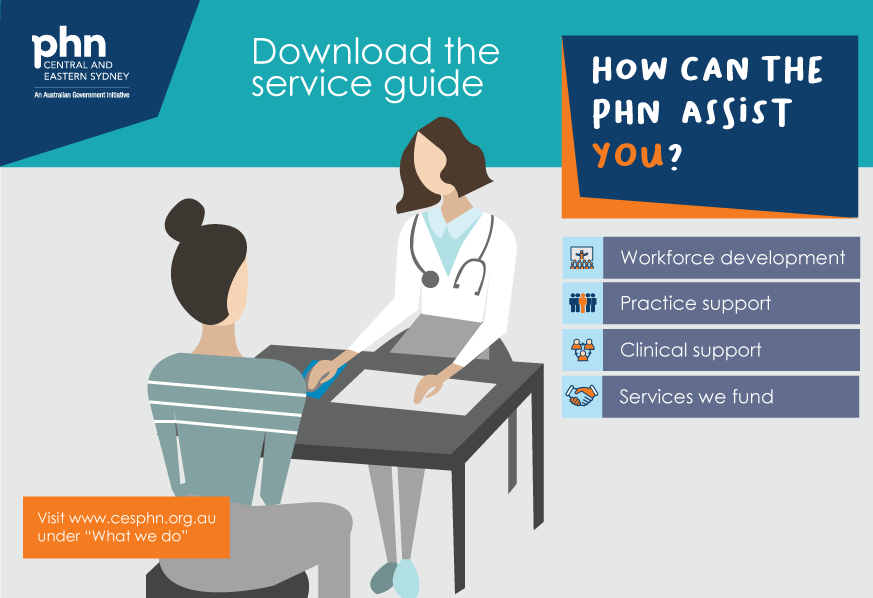 Support for health professionals is divided into three main areas:

Workforce Development is the first one and that covers continual professional development, peer group learning and other areas to update knowledge.
Practice Support which covers telehealth accreditation and other aspects of helping make a practice more efficient.
Clinical Support which, among other things, includes HealthPathways, immunisation support and the new GPCanShare program, designed to simplify the cancer treatment experience.

CESPHN is continuously analysing the health and needs of our community and as a result, responds with programs adapted as seamlessly as possible to these needs.
There are seven main areas of services we fund:
Mental Health

Psychosocial support

Suicide prevention

Aboriginal health

Alcohol and other drugs

After hours

Preventative health
We have numerous programs available in each of these categories depending on demand.
COVID-19 triggered a particularly large demand for mental health help. As a result, services for mental health were increased during COVID.
For more information: Services Guide
Get support:
If you are looking for a health service, please visit the HealthDirect National Health Services Directory.
Maroubra Medicare Urgent Care Clinic is now open
The Maroubra Medicare Urgent Care Clinic (UCC) is now open, seven days a week, from 8.00am to 8.00pm. The Maroubra Medicare Urgent Care Clinic (UCC) will help reduce pressure on our local hospital and emergency departments, allowing them to focus on higher urgency and life-threatening conditions.
Read more